Destination
Walk into a bygone era and enjoy the grandeur and gracious lifestyle of the Edwardian times. The spacious grand lodge is set high on the hill with a spectacular view, yet still has an intimate feel for your stay.

Welcome to the Grand Lodge. As you enter the Edwardian lodge, set high on the hill, an awe-inspiring view of the sparkling sea greets you from every vantage point.

The Lodge
Enjoy the grandeur and lifestyle of a bygone era, perfectly complete with carefully-chosen antique furniture and oversized classic fireplaces. As you explore the lodge, you'll discover each room with a distinct atmosphere. From airy open lounges to smaller intimate settings, you can socialise freely or find a cosy space to relax in peace with your favourite novel.
An elegant formal dining room flows through to the impressive country kitchen and conservatory. Warm light streams in from the gardens to illuminate an open kitchen, and a home-style table offers guests the chance to discuss the chefs' secrets of the kitchen.
Walk through the French doors and step into another world; Wharekauhau's magical private courtyard and gardens.
STAY WITH US
The Farm
Behind Wharekauhau's achingly-beautiful farmland surroundings is a hugely successful farming operation that put it on the map in the mid-1800s.

One of the oldest Romney studs in the land with a heritage that dates back to the 1840s.This vast 3,000-acre estate is dotted with Romney sheep roaming among the Black Angus cattle and is considered one of New Zealands premier coastal sheep stations.

The farm is managed by expert Farm Manager Bradley Riggs who keeps a close eye on his growing flock. "Every season breathes new life and magic across Wharekauhau, highlighted by the arrival of 10,000 spring lambs and the seasonal muster to shear the flock, the place is just magic day-in, day-out"
EXPERIENCES
The property has a ten-mile Pacific coastline, and is framed by a mountain range running North-to-South on our western boundary.
Getting Here
Wharekauhau is a scenic 1.5 hour drive from central Wellington airport (WLG), or a 10 minute helicopter 'hop' around the South Coast. The important thing to remember is while we are isolated, we are extremely accessible.
We are able to arrange a helicopter, private jet charter, private driver, or a rental car. If you are coming form further afield you should allow a 4 hour drive from Napier, or a 5.5 hour drive from Taupo
Please contact us for more information.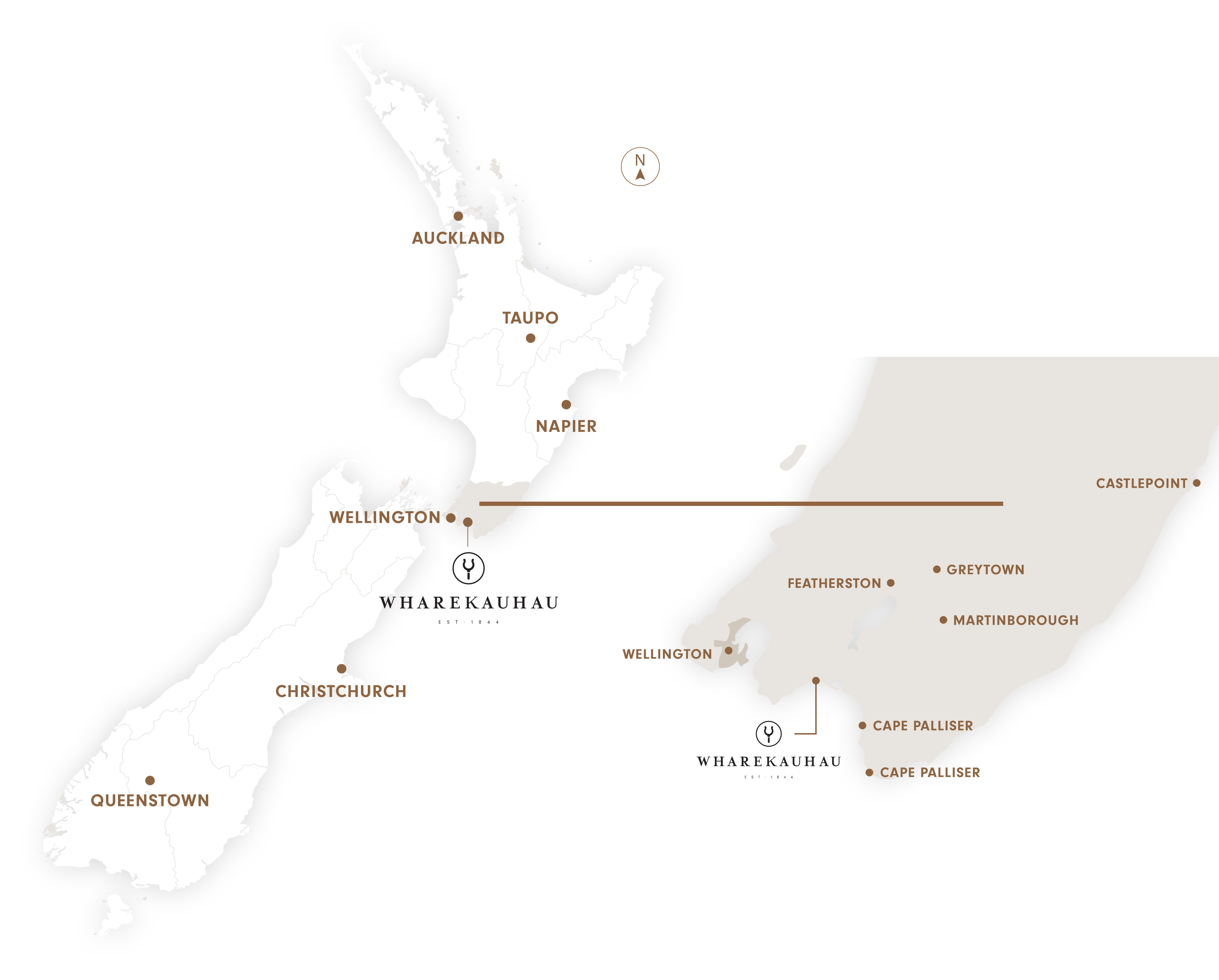 Explore Further